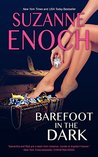 Barefoot in the Dark by Suzanne Enoch
My rating: 4 of 5 stars
I met Rick and Samantha several years ago in books that were both entertaining and funny. He is a billionaire and Sam was a cat burglar. They met when she tried to steal from him. From there it was really a interesting romp as they played off against each other. I was happy to see them back but now that they are engaged some of the fun in the original book is missing. They are still a fun couple but with Sam out of the cat burglar business it took quite a bit of stretch to find the tension in the plot. The need to work in backstory also slowed the book down. Since this is book 1 I have hopes that the next book will return the nonstop fun to the series.
I received a free copy of the book in return for an honest review.
Alien Intention by Cara Bristol
My rating: 5 of 5 stars
Another nice entry to this series. I loved how Bristol built the tension as the story began. A mistake was made and it takes a tension filled and dangerous path to make everything work as it should. We get to see more of the characters from the first two books and there is more backstory and world building as the series progresses. It is a big surprise how Stormy and Romando make a really great couple considering Romando's past actions in the previous books. Now if everyone will just forgive a mistake in his past.
View all my reviews