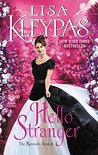 Hello Stranger by Lisa Kleypas
My rating: 5 of 5 stars
Something is rotten in England and Ethan Ransom is following the trail to the traitors. Then the very lovely Dr. Garrett Gibson arrives on the scene and a wonderful night happens. That is not all. Garrett, who is the only female doctor in England, becomes a pawn to use agains Ethan. This uses the illegitimate son trope as part of the plot and it works very well. Now all the Ravenels are part of the story line as both legitimate and illegimate work together to save the day. Look for some very interesting disclosers that keep the romance in the story on track. A very good addition to the series.
Lord of Temptation by Erica Ridley
My rating: 5 of 5 stars
On a personal note I did not like the cover on the book but did enjoy the story. Lord Hawkridge and Faith Digby have a past but not a very good one. Seems Hawk, at 18, cast her off with only a letter saying goodby 10 years ago. He felt he had good reason as he had just learned he was saddled with more debts than he could pay off in years. Now they have just crossed paths and the reunion has not been a happy one. Faith has a secret. That drives the story line. Both feel betrayed but both have at least one common goal. A nice addition to the Lords to Riches series.
I received a free copy of the book in return for an honest review.
View all my reviews