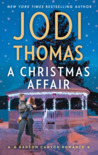 A Christmas Affair by Jodi Thomas
My rating: 5 of 5 stars
One new character and several from previous books get their own story all wrapped up in Christmas. Maria has decided that she wants a Christmas affair and choose the storekeeper where she sells her jam. It was fun to watch how she goes about getting what she wants or does she. At the same time a a new teenager arrives to stay with his great uncles. He is primed to run but does he. Read to find out. This was very lighthearted and fun. A nice addition to the Ransom Canyon story.
I received a free copy of the book in return for an honest review.
Nimbus by Jacey Bedford
My rating: 4 of 5 stars
This wandered a bit before it got down to the meat of the book. The first part of the book continues the world building, back story and character development. There is tension but it is not as focused as it becomes when they go after nimbus. I enjoyed visiting Crossways and seeing the characters again. This does come to a interesting conclusion; the problems are solved, the bad guy is taken care of, the characters are in a good place and all seems well in the world. A nice finish to the series.
I received a free copy of the book in return for an honest review.
City of Lies by Victoria Thompson
My rating: 5 of 5 stars
As soon as I saw that Victoria Thompson was starting a new series I was thrilled. I love her Gaslight Series and all the historical facts she puts into the story. City of Lies follows that same pattern. This time the setting is 1917 and features historical facts from the movement to allow women to vote. Elizabeth Miles is on the run when she joins a right to vote protest and gets everyone thrown into jail. Her family runs scams and she has just been caught up in one that goes bad. Elizabeth is very good at playing a role and her arrest and sentence have her playing a Lady in a time when the difference between Ladies and other women is very pronounced. It was fun to see how Elizabeth handled both her new friends and her less than honest family. Look forward to seeing Elizabeth in future books. Be sure and read what Victoria says about women and the movement involved in getting the vote for women. She used some actual historical events in the book and it is facinating to see all that was involved before women were allowed the vote.
I received a free copy of the book in return for an honest review.
View all my reviews