Sunrise Crossing
by
Jodi Thomas
My rating:
5 of 5 stars
Yancy Grey has been a character in the Ransom Canyon from the time he stepped off of the bus after getting out of prison and became the caretaker for a group of senior citizens. Now in book four he gets his HEA. There a mystery person who comes into his life. It is interesting how he reacts to having someone who loves him and he loves in return. It is a very nice sweet relationship that has no guarantee for either one. There are two mysteries in the book. Yancy is the only main character from previous books in the series. Look for two more to intertwine their lives with Yancy and Ransom Canyon. A really good addition to the series. I hope we see more of the main characters in Sunrise Crossing in future books.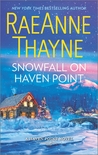 Snowfall on Haven Point
by
RaeAnne Thayne
My rating:
5 of 5 stars
Andrea Montgomery has had a rough time but she is putting her life back together (We met her in the last book when a starker came to town and found her). Sheriff Marshall Bailey is having a tough time. When someone tried to run him down he ended up with a broken leg and having to stay home. Of course Andrea is the one asked to look in one him, a task she would just as soon skip. Don't you know it is a set up for a great romance but not one that runs smooth. At first there is Marshall's really bad attitude. Then there are Andrea'a fears and the danger stalking Marshall. That leads to more complications than any one needs. A good addition to the series using two characters we have met before.
'Tis the Season
by
Jennifer Gracen
My rating:
4 of 5 stars
The Harrisons are a interesting family, very wealthy but that is not bringing a lot of happiness to Charles, the eldest. This appears to be book three in the family saga. The other two brothers have found their HEA. Charles's sister is still looking. Charles finds his in an unexpected place with someone who he has known for two years. I enjoyed the story but did think they talked the relationship to death before finally getting together. A nice fun love story.
View all my reviews