Books:
The Cowboys Convenient Bride by Donna Alward -
We met Laura Jessup in the previous book in this series. She is running from the Father of her baby and has let the small town believe someone else is the Father. I wondered how Alward would bring Tanner and Laura together. She does it in a very convincing way. A great follow up to The Cowboy's Christmas Family. Both are great feel good books.
Rustler's Moon (Ransom Canyon #2) by Jodi Thomas – Another great story in Thomas's new series for Harlequin.

She does a great job with stories with an ensemble cast.

Angela Harrell is new to the series.

She is the perfect match for Wilkes Wagner but of course it takes awhile for him to realize that he wants to do more than protect her from danger.

Lauren Brigman and Lucas Reyes are back in the story along with another new character, Lauren's' college roommate.

Look for a surprising development for one of the original character from book one.
One Rogue at a Time (Rakes and Rogues #2) by Jade Lee – Two very interesting characters meet and fall in love in book 2 of Jade Lee's Rakes and Rogues series.

I loved Maybelle.

She knows what she wants and does not hesitate to go after it.

Bram is the opposite.

He has settled for life on the edge of the ton.

While I really liked both Maybelle and Bram I really disliked their family members and really enjoyed seeing the two fall in love and get their HEA.
Into The Fury by Kat Martin -
I started reading Kat Martin when she started the Against series. After awhile I stopped even though I enjoyed all that I read. When Amazon Prime offered Into the Fury book one in the new Boss trilogy I decided to give them another try. The format is the same. There is danger to a female character. She is supported and helped by the very dangerous male characters. They end up with an HEA. It was fun to see the men from the first trilogy re-appear in the Boss trilogy. The characters were predictable but fun to meet. The same with the plot. There is a hook for the next book in the series and I will be looking for it to see what happens. If you like contemporary romance with danger attached try this series. All of the book stand alone so start anywhere.
Wildfire in His Arms
by Johanna Lindsey. This is the first time for an Johanna Lindsey book. I started with an audio book. Then two of the disk had bad spots on them so I finished with the hard copy. Both gave me some really good laughs and smiles. A very fun read.
Taking Aim At The Sheriff by Delores Fossen – Book two in the new Appaloosa Pass Ranch series.

A good addition to the story
line.

Like all Intrigue books this is full of danger, tension and romance.

The two main characters are from two families who are bitter enemies.

Laura Tate loves Jericho Crockett but has kept a dangerous secret to protect him.

Jericho knows even being with Laura is dangerous but then that secret comes out and he has to protect her and the secret.

Good plot and story line.

If you like the books in Harlequin's Intrigue series check out the ones written by Fossen.
Jail for the Damned by T.S. Mercer – A familiar theme with a twist.

The jail is a supermax located somewhere on Earth in the very near future.

The prisoners do not know where it is located and no one has ever escaped and lived to tell it.

Feral humans who love to capture and kill the inmates surround it.

A interesting story that was listed as SciFi.

I did not find much SciFi in it.

The main characters were interesting, the story predictable and the plot very simple.
Anything for You (Blue Heron #5) by Kristan Higgins – A new Blue Heron book that features Connor O'Rourke and Jessica Dunn
with visits from all the other favorites in the series.

This is a story that is very long in the making.

It tells the history of both from the time they were 12 and now they are both in their 30's.

It does not look good for the two of them as Jessica always holds back but in the end they have a great HEA.

A nice addition to the series.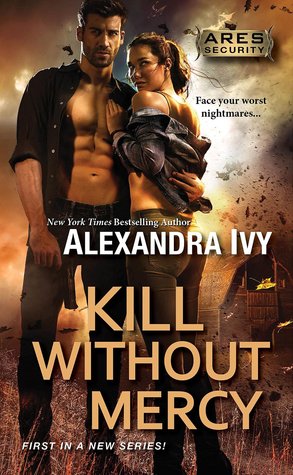 Kill Without Mercy (ARES Security #1) by Alexandra Ivy – Military heroes are very popular right now.

Kill Without Mercy
features 5 former Taliban Prisoners why have banded together to start a security business.

The concept is not new but Ivy makes it sound fresh.

I love the five main characters.

Each has his own different strength and personality.

They are very close and each is there for the other.

This first book features Rafe Vargas.

Annie White is in trouble and Rafe is just the one to help but he does not do it alone.

The story brings all five in to help and providing a little of the back-story for each.

I think the series will be a real winner.