Call of Fire by Beth Cato
My rating: 5 of 5 stars
Be warned; this starts out as the last book ended so if you have not read book one you will be very lost. Ingrid, Cy, Lee, and Fenris have escaped San Francisco but are still in danger. The mix of history as we know it and history in a steampunk world is still very interesting. Cato even has a list of books the helped her develop her story listed at the end. More backstory is revealed, we meet new characters and learn more about the world where the story is set. Like many middle books in a series nothing is solved but much is set in place. This is a great series and I am looking forward to the next book. Again this does not do a good job of standing alone. Read book one, Breath of Earth, first.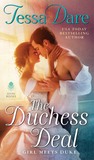 The Duchess Deal by Tessa Dare
My rating: 5 of 5 stars
One again Dare delivers everything I have come to expect in her books. The Duchess Deal is book one in a new series and the beginning is priceless and full of laugh out loud moments that continue throughout the book. Duke of Ashbury needs a wife and a heir. He decides that Emma Gladstone is perfect. That is where the great dialog starts. Emma is trying to collect her money for sewing the unused wedding gown from Ash's cancelled wedding and the Ash has just asked his solicitors to find him a bride. Emma get a proposal and Ash then has to convince her he means it. Everything develops from there. This is fun, sexy, sometimes ridiculous and a hard to put down story.
A Duke in Shining Armor by Loretta Chase
My rating: 5 of 5 stars
Hugh Philemon Ancaster, seventh Duke of Ripley, has definably bitten off more than he can handle when he goes after the runaway bride, Lady Olympia Hightower. She is not his bride but one of his best friend's bride and she is leading him a very merry chase. Great dialog, interesting characters and a fun plot are the hallmarks of any Loretta Chase story and A Duke in Shining Armor is no exception. Look for laugh out loud moments as the story progresses to a very satisfying end. There are two Difficult Dukes who need a HEA and some interesting side byplay from two characters who seem to have a history of broken romance.
View all my reviews