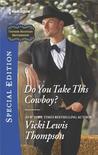 Do You Take This Cowboy? by Vicki Lewis Thompson
My rating: 5 of 5 stars
With this one we say a sad farewell to the Thunder Mountain Brotherhood series. It started with Cade and Lexie starting to get together and two years later in this final book they get married. The picture Lewis paints of the wedding is moving. Many of the men return for the wedding including Austin Teague who has returned from New Zealand ready to marry and settle down. He even has the bride picked out but she has different ideas. A nice romance to end the series as well as a wedding with the two who were in main characters in the first book.
As We Rise: Rogue by Donnielle Tyner
My rating: 3 of 5 stars
Jo Cygni is a very strong character even as she has to fit into a new role as captain of the spaceship CS Kismet after the death of her father. Throw in a need for a well paying cargo and you have the background for Rogue. There is tension, mystery and romance as a part of the plot. Jo has to captain the ship while dealing with a unpleasant surprise and the addition of her lover there to watch over everything she does. The story was a little uneven but had all of the correct elements for a science fiction romance. It does end with part of the problems solved but there are more left up in the air. Book two follows with some of the answers.
I received a free copy of the book in return for an honest review.
Mikolos by Ruby Lionsdrake
My rating: 5 of 5 stars
Ruolan the Retriever finds stolen items and is great at her job. What she really wants is to be a Star Guardian but know in her heart it is a difficult if not impossible dream. When she meets several real Star Guardians and volunteers to help them find a stolen item she is close to living her dream. This is a cute story with a lot of action leading to places where Ruolan is the difference between success and failure in recovering the stolen item. There is a romance added into the mix and a big surprise for Ruolan at the end. This is a side story in the Star Guardian series and adds some extra backstory and world building to the series.
View all my reviews