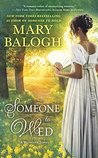 Someone to Wed by Mary Balogh
My rating: 5 of 5 stars
This hits on several levels. Wren Heyden has a picture of herself based on how she was treated as a child. That is not who she is but it is a struggle to change her internal picture. Alexander Westcott, the new Earl of Riverdale, has inherited a title, a run down estate and no money. He thinks that he must make a marriage based on the money he needs not love. Turns out love sneaks up when least expected. Both Wren and Alexander are on a journey to find what both want and need. I loved Wren and how she kept saying have courage as she faces each new situation. Alex has always been an interesting character in the series and it is great to see how he handles finding a wife and how he supports Wren. Both learn and then support the other. A very nice addition to the series.
I received a free copy of the book in return for an honest review.
Mail-Order Christmas Baby by Sherri Shackelford
My rating: 5 of 5 stars
This was an interesting book to read. I did have a very strong suspension about who was the bad guy but it did not change my enjoyment as I read. Sterling Blackwell does not know what to do with the baby that was mailed to him. Heather O'Connor steps in. She knows what it feels like to be unwanted as a child and will not let that happen to this child. That leads to a wedding between the two and the start of a mystery. Who mailed the child and how and who named Heather and Sterling the parents?
At the heart of the mystery is not only the baby but the ranch that Sterling is working hard to save. Seems someone does not want that to happen. This is a very well crafted story with great characters. Seeing Sterling and Heather get their HEA left me with a very warm feeling. This is book one in a new series and there were plenty of new characters who need their HEA. Don't know who will be next but I will watch and then read the next book in the series.
I received a free copy of the book in return for an honest review.
Third Son's a Charm by Shana Galen
My rating: 5 of 5 stars
Ewan Mostyn is anything but charming. However, as Lady Lorraine learns he is honorable, honest and loyal which turns out to be much better than charming. As it turns out she also learns that he does have charm, he just does not realize it. There are things that Ewan wants to keep secret, like the fact that he has trouble reading. He is the third son and of no value to his family. A nice romance between two people look to be opposites but find value in what each has to offer. Ewan is a great hero who is much better than he thinks he is. Lorraine ends much better than she starts as she realizes that the man she thinks she loves was just a fad and Ewan is the real thing. I read the novella that started the series and was hooked from the first. I think I know the next Survivor to get his HEA. I will just have to wait and see if I am right.
I received a free copy of the book in return for an honest review.
View all my reviews