The Secret of Flirting by Sabrina Jeffries
My rating: 5 of 5 stars
Here are the spymaster and the actress both playing a part in an historical event. Belgium needs a ruler and the candidates are all in London to make the choice. Jeffries mixes recorded history with some make-believe to spin a interesting and fun story. Baron Fulkham meets the stunning Princess Anne of Chanay and know that she is an imposter. The why is a big part of the fun. It was fun watching her sidestep every trap that Fulkham set. Even more fun to see him try to keep from falling for the lovely imposter. A nice addition to the Sinful Suitors series.
I received a free copy of the book in return for an honest review.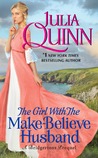 The Girl with the Make-Believe Husband by Julia Quinn
My rating: 4 of 5 stars
A good use of the memory loss trope. Cecilia Harcourt leaves home and travels to the New World to nurse her brother back to health but instead of finding her brother she finds his friend Edward Rokesby injured and in need of her help. Only family can see Edward so she pretends that she is his wife and with her help he recovers but with a big memory gap. The two have corresponded but never met. The interaction between Cecilia and Edward plays out in a way that keeps the tension going. Poor Cecilia's lie just keeps getting bigger and she lives in fear about what will happen when Edward finds out she is not his wife. This is a Bridgertons Prequel and ends with a nod to the Bridgeton books. It was interesting to see the Revolutionary War from the British view.
View all my reviews