Historical Romance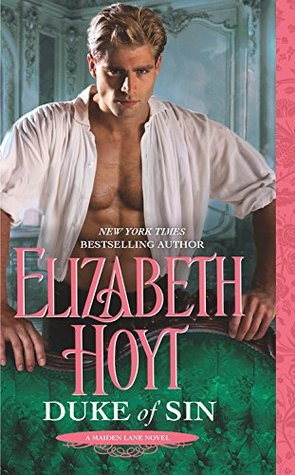 The Maiden Lane series is filled with great characters and I never miss a book.

The Duke of Sin does have great characters and a lot of tension but I just did not like Valentine Napier.

Bridget was not one of my favorite characters either.

Valentine's one redeeming feature has been his protection of the sister so I was interested in hearing his story and it did explain his behavior.

Even so by the end of the book I still did not like him.

Fans of the series will want to read Duke of Sin.

While it can stand alone I would not start the series here.

After reading this book I am not sure you would be a fan.
Contemporary Western Romance
It was nice to see Josie Colton make another appearance in the Coltons of Texas series.

This time she is trying to find something that her father burried years ago.

What should have been a one day thing turns into days as the owner of Colton Valley Ranch disappears and someone tries to kill Josie.

Josie really has not plan for her life out of hiding until she meets Tanner Grange and his adorable daughters.

I loved both Tanner and Josie.

They are perfect as the two main characters that find a HEA.

A good addition to the series with some great hooks for future stories.
Contemporary Western Romance
We have a new graduate from Thunder Mountain and of course when he comes back to visit he meets woman who is perfect for him.

Liam and Hope strike sparks immediately but all is not well between them.

She does not want anything but a one week fling.

Getting her to change her mind is a huge job.

This series has a lot of sex and sometimes not that much character interaction outside the bedroom.

I like the fact that the two main characters had more interaction that did not involve sex.

A fun story with two interesting main characters and a nice visit with characters from the previous books.