Saga, Vol. 2 by Brian K. Vaughan
My rating: 5 of 5 stars
I read Saga Vol. 1 for my Science Fiction Book Club and liked it enough to see if my local library had the other volumes. They did so I checked out Vol. 2. This was mostly backstory and really added to the story line in Vol. 1. It did a very good job of catching my attention. I love how the graphics add so much to the story. The illustrator and the author must have to work very closely to get that kind of result.
The Chains of Freedom by Audrey Sharpe
My rating: 5 of 5 stars
I loved The Dark of Night and said that it was very well written. Because of that the bar was very high for The Chains of Freedom, the second book. Well, Sharpe had no trouble clearing that bar. Like many second books The Chains of Freedom sets up the next hurdle for the Starhawke and her crew. The romance in the book is brought fully into the light but there is something that Aurora does not know about her long time friend and his family. Everything is not what it seemed even at the beginning. The search for a home world for the three hundred refugees recently freed was successful so one of the problems left from the first book was solved but new problems were revealed. The character development, plot, and world building continued to be first rate. Now I just have to wait for the next book in the series. There are secrets that look like they will be devastating to Aurora and the bar and expectations are still high.
This is a must read for fans of Science Fiction Romance.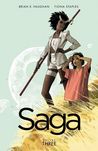 Saga, Vol. 3 by Brian K. Vaughan
My rating: 4 of 5 stars
Vol. 3 was missing at the library. It is way overdue so someone took and kept so I had to buy. This one is more about the people pursuing our couple. The story is still told by the little girl but I see trouble ahead for our mismatched couple.
View all my reviews