Constellation XXI by Edward Hoornaert
My rating: 5 of 5 stars
Book three in the Repelling the Invasion series and I had not read the first two. As a result I missed the backstory and world building and was dropped right into the story. What was done in Constellation XXI was the character development. I loved both Sienna and Crispin. They had a past and it was getting in the way of the present. Sienna had a secret that was covered in guilt. Crispin was just happy to finally be back around Sienna. He also had a secret and that one was what they needed to win the war they were in. Ships had quit working and Crispin has found the secret. That secret was putting them in a lot of danger. Great story line with interesting aliens as well as humans.
I received a free copy of the book in return for an honest review.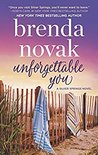 Unforgettable You by Brenda Novak
My rating: 4 of 5 stars
Back in Silver Springs a new set of characters are center stage. This time the tension is very evident from the first page. While I liked the main characters I had trouble buying into the plot. Forgiveness is at the heart of the story. The event that lead to needing forgiveness made it hard to believe that the past could ever be put behind in the way the story was told. I do believe in moving on just not in the ways it came about in the story.
I received a free copy of the book in return for an honest review.
View all my reviews