Books:
Prudence by Gail Carrier - I love the Parasol and Finishing School books and was really excited when I saw that Prudence had been released. Carriger had promised that we would return to the world she created with a series that featured Alexia and Lord Maccon's daughter Prudence. Now Prudence is off on her on in a story that promises adventure and danger. There was some adventure and some danger but it did not manage to carry the book. Everything moved very slowly with so many descriptions of clothing, tea and the territory they were in that the danger and adventure took a back seat. Part of the problem may be that the book is aimed at the YA crowd and I am way past that age. However there are other YA books that I have read and really enjoyed.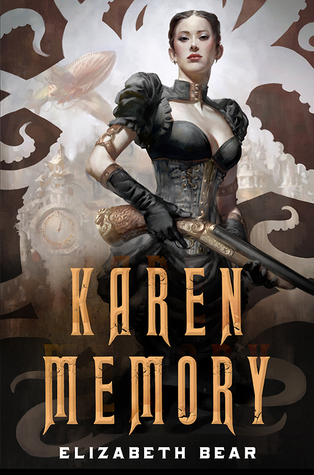 Karen Memory by Elizabeth Bear - This is a different take on a
Jack the Ripper type killer. The killings lead to a much bigger plot. I loved that most of the main characters were female and not you usual type of female either. Karen Memery (her spelling is different from the book title) tells the story from her point of view. The story is a steampunk set in the late 1800's and she uses the language that was common during the time period. This is a stand-alone book with a great plot and a satisfying ending.
My Steadfast Heart by Jo Goodman - This is book one in the Thorne brothers trilogy and was free on Amazon this month. I like Goodman's writing so decided to give this on a try. Colin Thorn and Mercedes Leydon are thrown together when Colin wins a bet from her uncle. It is a familiar plot line but works very well in the context of the story. My Steadfast Heart is a book for early in Goodman's career. It does ramble more that later books (the plot is not as tightly woven) but still tells a good story.
One True Heart by Jodi Thomas - This is the latest Harmony Novel and once again Thomas delivers a feel good story. There are three couples and three romances this time. Milline McAllen finds where she can call home, Johnny Wheeler meets his faire who believes in him when no one else does, and Beau Yates comes back and once again finds Trouble. Not everything is solved but things are looking good for all three couples.
Audio Books:
The Way of Kings by Brandon Sanderson - If you have read or listened to The Way of Kings you know why there is only one audio book this month. This is a very long books with a lot of description, characters, world building, back-story and action. I listened on a 2000 mile trip and still had to finish after I got home. This is a very complex story line that is very slow moving. At the end there were no answers but there many questions left for the next book. I think I will read that one as I am not planning another long trip anytime soon.