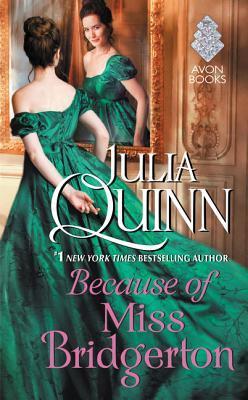 Because of Miss Bridgerton by Julia Quinn
Historical Romance
Quinn has found another Bridgerton who has given up on love.

We know better.

If your name is Bridgerton love is somewhere in your future.

Billie Bridgerton is a not your usual Ton lady.

She prefers the country and wearing pants instead of dresses.

What she needs is someone who understands and likes her.

The last person she thinks will do that is her neighbor George Rokesdy.

Of course they are perfect for each other.

A nice interesting story told with a lot of humor.

It works find as a stand alone.

If you are a Bridgerton fan you don't want to miss this one.
The Wicked Duke by Madeline Hunter
Historical Romance
This is the third book in the Tall Dark, and Wicked trilogy but it works as a stand alone.

Lancelot Hemingford, Duke of Aylesbury has a big problem.

Was his older brother murdered and did he do it.

He just wants it over and his name cleared.

How marriage and love lead to just that keeps the story moving.

This is a really interesting and fun book.

The plot moves at a great pace. It was hard to decide if the older brother was murdered or dies from natural causes.

It turns out he was not a very nice person.

All of that made for a enjoyable reading experience.

I will add that I did not find the Duke to be that wicked.
The Alexandria Affair (Captain Lacey Regency Mysteries #11) by Ashley Gardner
Captain Lacey is one of my favorite characters.
This time his wife has had him bound, gagged and put on a ship for Egypt.
This is a trip with Lucius Grenville and has been planned for a year.
Lacey tries to back out but he is doing a little too much hovering so off he is sent.
I loved the history that is brought out in the book.
This was a time when any and everyone was digging up the past in Egypt and sending it out of the country.
There is a lot going on in the book.
Lacey has been asked to find a book from the original library in Alexandria.
Someone is still trying to kill him.
He makes a new enemy.
All in all a really good story that adds more depth to the series.
This can stand alone but reading the series from book one is much more fun.