Resisting Miss Merryweather
by
Emily Larkin
My rating:
4 of 5 stars
I received an ARC from the publisher in return for an honest review. Miss Merryweather like Charlotte before her has a Baleful Godmother. Unlike Charlotte, she knows what will happen on the 25th birthday. That is when the Baleful Godmother will appear and offer her one gift but she has to be very careful what she asks for. Some things you can ask for will do more harm than good. While she is waiting she meets Sir Barnaby Ware. He was in the first book, Unmasking Miss Appleby, as were Charlotte and Lord Cosgrove. This is about forgiveness and going on with life. Just as Merry thinks that she will get her HEA something happens to Barnaby and she must ask for just the right thing to save the day. This is one where you really need to read book one to understand all of the current running though the story. This has fast become one of my favorite series and I am looking forward to the next book in the series. There is a sample of that book at the end of Resisting Miss Merryweather.
Ocean of Storms
by
Christopher Mari
My rating:
3 of 5 stars
I received a free copy of Ocean of Storms in return for an honest review. I found some interesting concepts in Ocean of Storms but I also found some very poor writing and editing. I was often lost in long explanations about who and why and what worked and what did not work while the plot just stood still. I think this could have been a very good story if it was edited down to focus on the actions and the plot instead of pages and pages of description that did not add to the story.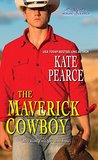 The Maverick Cowboy
by
Kate Pearce
My rating:
5 of 5 stars
I started this series this month and when the second book in the series came up on Netgalley I grabbed it. It does not come out until January but I could not wait to read it and see how the next Morgan boy reacted to coming back to the ranch. Blue was in book one and I knew who he was going to fall for after he insulted her. In book two he has to work hard for forgiveness. Of course, Jenna has her own problems. Her family think she is an under-achiever and keeps putting her down. I liked how dedicated she was to her job and how she eventually got her HEA with Blue. This series has a familiar theme - men coming home after being gone for a long time. There is a reason it is familiar. With a good author it makes for some really good stories. The Morgan Ranch series is no exception.
View all my reviews