Clean Sweep by Ilona Andrews
My rating: 5 of 5 stars
The Earth is neutral territory, the Inn is a way station for travelers from other planets and the innkeeper processes magic. With the scene set we meet Dina Demille and an entire cast of characters who pass through her Inn. I loved the setting and found the characters to be different and very interesting. The problem is introduced when another dog is killed in the neighborhood where Dina's Inn is located. Nothing on Earth did the deed and as the story unfolds we meet a variety of characters who will pepper the pages of the Innkeeper Chronicles. This is book one and as it ends one problem is solved but there are more on the horizon. This is a fun series that has great dialog and some really wonderful laugh out loud moments.
Sweep in Peace by Ilona Andrews
My rating: 5 of 5 stars
Dina needs people to stay in her inn so she agrees to host three rival groups. Why take the chance - the inn gets it strength from the people who visit and she is short of visitors. Nothing goes as planned and Dina becomes the focal point instead of just the innkeeper. The characters from the first story return and new and interesting characters arrive. The backstory and the world building are enlarged. The story is tension filled and surprises arrive on a regular basis. This story line keeps getting better and better. Start at the beginning for the best read.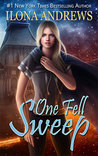 One Fell Sweep by Ilona Andrews
My rating: 5 of 5 stars
Family first or is it protect your guest first. For Dina both are at the top of her list. When she gets a message from her sister she springs into action. Then when she gets the chance to find out what happened to her parents she accepts a dangerous guest. This series just keeps getting better and better. The cast of characters help with the story line and the problems get worse and worse. There are some really funny scenes that had me laughing out loud. Some problems are solved and others are left up in the air. Here's hoping for more Dina and Innkeeper Chronicles.
View all my reviews