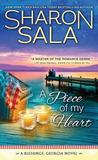 A Piece of My Heart by Sharon Sala
My rating: 5 of 5 stars
Not everyone gets a second chance but for Mercy Dane it suddenly comes true. I loved Mercy and how strong she was. She told it like it was and had made a good life for herself even if you was alone with no family. She had strong friends and often did for others. When she arrived in Bessings, Georgia to give blood she found more than just a big thank you. A great story with great characters. This is book four in the series but works well as a stand-alone.
The Bad Luck Bride by Janna MacGregor
My rating: 4 of 5 stars
What happens when a curse meets revenge? In the Bad Luck Bride two people find and then almost lose each other. Alex starts out looking for revenge and then realizes that he is about to destroy a innocent woman. Clair has had three engagements broken and is said to be cursed when Alex causes the fourth to also be broken. Both have a lot to learn about faith and truth. I liked Clair and though she let Alex off too easily. I was not that found of Alex and his drive to ruin Lord Paul. He just did not see the truth about how he felt about Clair until it was almost too late. The is the first book by Janna MacGregor and it is a good start to her writing career.
Saving Jake by Sharon Sala
My rating: 4 of 5 stars
I read the first chapters of Saving Jake in the back of book #4 of the Blessings, Georgia series and was hooked. I liked Jake from the beginning. He was back from war suffering from PTSD but trying very hard to get on with his life. Laurel Payne is recovering from her own tragedy. The two are not looking for a relationship and both feel that they are bring to much baggage to move on. It takes a little girl to bring them together. A nice sweet story that does a good job of showing how difficult coming home from the current war can be.