Gift From The Stars by James Edwin Gunn
My rating: 5 of 5 stars
Told as a series of short stories Gift From the Stars caught and held my attention from the first episode. The gift is plans for a interstellar space ship and each episode follows the characters as they work to first build the ship. Then it follows them as they journey and arrive. This is hard science fiction with a side of character development. Not a long story but an interesting one that left me wondering at the end and for me that is a mark of a good story.
I received a free copy of the book in return for an honest review.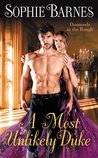 A Most Unlikely Duke by Sophie Barnes
My rating: 5 of 5 stars
I liked the concept at the heart of A Most Unlikely Duke. Raphe Matthews and his sisters were living in poverty until he became the Duke of Huntley and his speech and manners told where he came from. Enter Lady Gabriella who agrees to help his sisters fit into their new role while others help Raphe. The story seemed to fit a mold then it surprised me with some twists I did not expect. Gabriella is a great character. There was a lesson in the her story - you cannot live to please others if you are not pleasing yourself. This is book one in a new series and it set up some great side characters who will eventually have their own story.
Down Home Cowboy by Maisey Yates
My rating: 5 of 5 stars
Down Home Cowboy talks frankly about abuse and how the victim of abuse in a marriage leaves and recovers. It also looks at another serious problem in our society today - what happens when teens try to kill themselves. For all that it looks at two serious problems it is not a depressing book. All of that is wrapped up in a very nice love story between two people who do not trust and try to make the attraction they feel about just the physical. Cain, his daughter Violet and Alison are really great characters who move the story along at a brisk pace. While both problems are tackled in the story line it is done in a very sensitive manner and shows that with work there can be a happy ending.
I received a free copy of the book in return for an honest review.
View all my reviews