A New Leash on Love by Debbie Burns
My rating: 5 of 5 stars
This deals with some very serious issues that help drive the plot while still keeping the characters real and trying to live and love. The shelter at the heart of the story lets the characters tell some interesting and sometimes funny stories that help lighten the serious issue of what happens after the death of a child. Some of the issues facing shelters also work into the plot. This is a very good story with great characters and issues. First of a new series I will be looking for books two.
I received a free copy of the book from the publisher.
Due Diligence by Sharon Lee
My rating: 5 of 5 stars
Due Diligence provides another back story for the Liaden series. Here we learn how Chi choose the pilot to give her a child. And the child - Dav. For me this was a sweet story with two interesting characters. For Gun, the pilot, is a new character to the series while Chi has been seen in previous stories that provide a background to the who and how of Clan Korval. This is a must read for fans of the series and it would provide an entertaining read for others.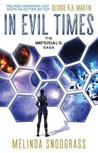 In Evil Times by Melinda M. Snodgrass
My rating: 3 of 5 stars
I loved The High Ground and was looking forward to In Evil Times. I was disappointed. Characters I liked before I really disliked this time. The action seemed to be going no where but is probably a set up for book three. Tracy is in a very big mess, Infanta Mercedes de Arango has turned out to be a real bitch and Boho is acting true to form. Hope all will work out in book three in a way I will like.
View all my reviews