Murder in the Bowery by Victoria Thompson
My rating: 5 of 5 stars
It is always fun to visit with Frank and Sarah. I liked that the story is set against the actual strike by newsboys in New York. Frank is looking for a specific newsboy. That leads to two murders that Frank decides to solve. The mystery has some very dark aspects that Thompson does a good job of working into the story line. Mauve and Gino play a part in the story and there is a set up for new stories in the hospital Sarah is starting. I am looking for more romance between Mauve and Gino. One thing I would like to see is a more complete look at Franks Mother. She has almost become a non character who is out of the room or leaves as the scene starts. I think she deserves better.
I received a free copy of Murder in the Bowery from First to Read in return for an honest review. This is one of the mystery series I alway look forward to.
No One But You by Brenda Novak
My rating: 5 of 5 stars
Once again one of the graduates from the New Horizons Boys Ranch is at the center of the story. Darson Reed needs help but while he was acquitted of the murder of his parents people still think he did it and finding someone to work for him seems impossible. Enter Sadie Harris who has problems of her own. I liked how Novak worked innocent until proven guilty and the danger posted by stalkers into the story line. Both Darson and Sadie have to find an inner strength as they work to make a home for Darson's special needs sister. The danger to Sadie by her ex-husband brings extra tension to the story. Another good story with interesting characters. Silver Springs and New Horizons Boys Ranch look like a great place for interesting stories and characters.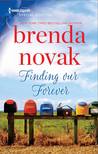 Finding Our Forever by Brenda Novak
My rating: 5 of 5 stars
The first in a new series the setting in the town of Silver Springs and the New Horizons Boys Ranch located just out of town. Adoption and the need to find you birth partner is at the heart of the story. Aiyana, the ranch's owner, is the birth mother of Cora. Aiyana is such a strong character that you have to wonder why she gave her daughter away and why no-one knows that she ever had a child. Cora takes a job at the Ranch to get to know her birth-mother and is very torn about letting her know that she is the daughter she gave away. An added problem - Elijah Turner, Aiyana's adopted son and ranch manager is attracted to Cora and she to him. The handling of the adoption issue is very well handled and adds to the tension in the story. I loved both Cora and Eli and how they both handled the birth mother issue. I see a lot of great stories set in Silver Springs and New Horizons Boys Ranch.
View all my reviews